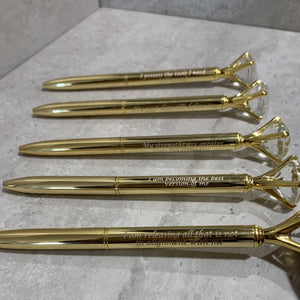 Our Affirmation Pens are a great resource to use for journaling or with your daily office work task. These affirmation pens are positive daily reminder statements to uplift your energy, raise your vibration, and to bring good vibes.

Affirmation pen quotes
- I am becoming the best version of me.
- My strengths are greater than my struggles.
- My past does not define me.
- I possess the tools I need to succeed.
Customer Reviews
12/16/2020
Kennethia H.

United States
Powerful pen
I love the way it writes, and feel. I don't let anybody use it. I believe what it says and everything I have written with it has happened for me