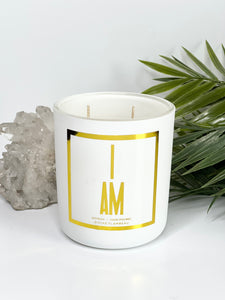 Our "I Am" affirmation candles are part of our new line. Use this candle to affirm your daily affirmations. 
Enough-

 Rose Lemon

Serene-

 Lavender

Thankful- Coconut Lemongrass
Loved- Rose
Prosperous- Eucalyptus 
Joyous- Lilac Cotton Blossom
How to Use:
Use this candle to affirm, pray, or manifest whatever you desire. 

Keep wick trimmed to 1/4 inch.

For the first burn, keep candle lit until the top layer of wax melts completely across the surface (edge to edge) of the glass to prevent tunneling and provide an even burn. This can take 2-3 hours.

 

Do Not extinguish flame before the candle melts from edge to edge. Doing this will negatively impact the clean burn of the candle. 
Burn in enclosed

 

space for at least 30 mins for optimal scent dispersion. Soy candles are not like store brand paraffin candles, which have toxic chemicals to help with the scent. Therefore, the scent throw will differ with natural soy candles.

Leave at least ½ inch of wax at the bottom, do not burn your candle all the way down.

Use a candle snuffer or the candle lid to extinguish the flame.
DISCLAIMER:  All candles are handpoured and made to order.