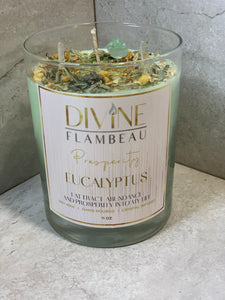 Description:
Our Prosperity candle is great for those wanting to attract prosperity and abundance. Green is a color that is associated with anything to do with growth, from fertility to finances. Including green in your manifestation/prayer also promotes good health and success. Green candles represent Earth magic, physical and emotional healing, increased finances, success, and renewal. Prosperity is a relaxing eucalyptus scent with Clear Quartz, Pyrite, Fluorite, and a special prosperity herbal blend.
Glitter is added to symbolize joy and happiness.
Pyrite is the ultimate symbol of wealth and good luck. It grounds you, increases your focus, gives you strength, and has healing properties.
Clear Quartz is highly prized for its ability to clear the mind of negativity to enhance higher spiritual receptiveness. Enhances your prayer, energy, and intention. It is considered the master of all healing crystals due to its ability to magnify or amplify healing vibrations of other crystals
Green Fluorite is a healing stone. It helps detoxify, energize, and cleanse for emotional and mental healing.
This candle was made for every customer who burns it - with the hope that whether your spiritual journey is to attract success, healing, or abundance; God/universe answers your prayer.
How to Use:
Use this candle to pray or manifest whatever you desire. 

Keep wick trimmed to 1/4 inch.

For the first burn, keep candle lit until the top layer of wax melts completely across the surface (edge to edge) of the glass to prevent tunneling and provide an even burn. This can take 2-3 hours.

 

Do Not extinguish flame before the candle melts from edge to edge. Doing this will negatively impact the clean burn of the candle. 
Burn in enclosed

 

space for at least 30 mins for optimal scent dispersion. Soy candles are not like store brand paraffin candles, which have toxic chemicals to help with the scent. Therefore, the scent throw will differ with natural soy candles.

Leave at least ½ inch of wax at the bottom, do not burn your candle all the way down.

Use a candle snuffer or the candle lid to extinguish the flame.

Once your candle is complete, be sure to save your crystals! Remember results are based on your faith and intentions.
DISCLAIMER: Due to crystals coming in different sizes and shapes, candle may not look exactly as pictured. Each candle will have its own unique look. All candles are made to order.
Customer Reviews
03/08/2023
Felicia G.

United States
Prosperity
I totally love love the smell of this candle, it's my favorite candle and I've purchased it several times and even had it gifted to me. This is my go to candle and I keep it as a reminder as long as I can.
04/27/2021
Nakedia O.

United States
Beautiful Smell!
This candle is so invigorating and refreshing! It smells like pure eucalyptic prosperity!
12/23/2020
Tychanika K.

United States
ABSOLUTELY LOVED MY CANDLE
I ordered eucalyptus candles as gifts from Divine Flambeau, as well as other items, and I am BEYOND pleased. The candles are BEAUTIFUL and smell so good! The packages were also sent out fast. I highly recommend Divine Flambeau.